Noah starts to feel unwell
Noah Dugas was a young, healthy and vibrant 13 year old. He enjoyed the outdoors and being active. His main passion was hockey but he also loved waterskiing, dirt biking, fishing and so many other sports and activities. Not only did Noah excel in athletics, he was also an honour student with a love and gift for music. He took pride in his health, eating well and working out daily.
It was therefore completely unexpected when Noah started to feel unwell while playing hockey in February 2020. He developed sudden headaches and diminished vision on his right side. We immediately sought medical attention but nothing concerning was originally identified. As a result, Noah's initial treatment followed general concussion protocols.
It wasn't until March 13th that an optometrist appointment urgently led us to the ER for a CT scan. That was the day that we learned that Noah had suffered a stroke!
We were understandably shocked by this news.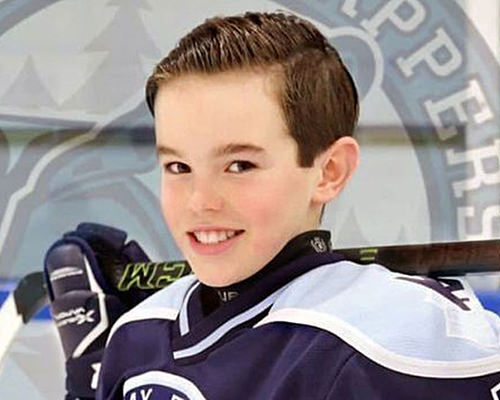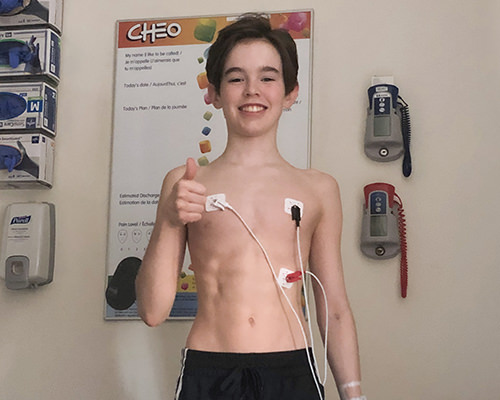 Noah admitted to hospital
We immediately drove to the Children Hospital of Eastern Ontario (CHEO) in Ottawa where Noah spent the next week undergoing multiple tests.
He was such a trooper through it all! He was always thanking the nurses and doctors even when uncomfortable procedures needed to be repeated. He remained positive and never once expressed his discontentment with missing out on his March Break.
At the end of the week, doctors were still unable to determine the cause of the stroke so Noah was prescribed two needles of blood thinners daily for 6 months to help dissolve the blood clot and prevent any new clots from forming. This treatment also meant no contact sports or activities that would risk any serious bleeding.
Despite these restrictions, Noah cautiously worked out every day and was more determined than ever to return stronger and better to the sports he loved.
He spent the best summer of his life enjoying the lake, fishing and spending time with family and friends.
Once he completed his treatment, he finally was able to waterski, ride his dirt bike and play hockey once again.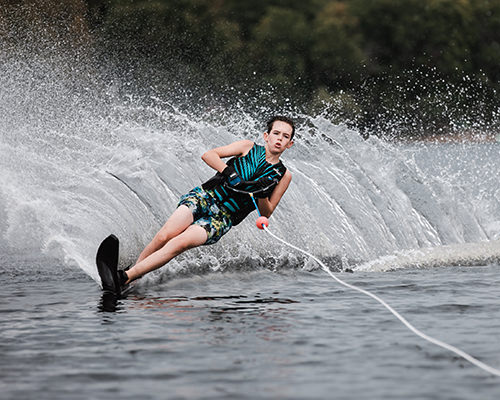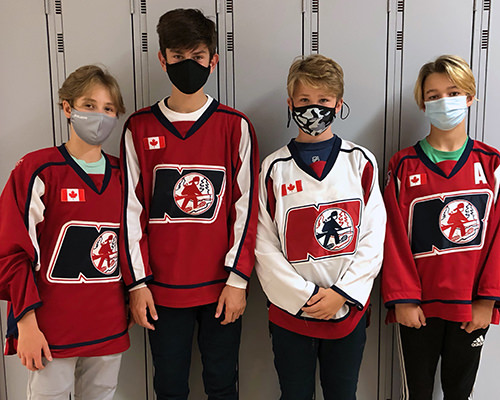 Symptoms unfortunately return
On August 29th, Noah's symptoms unfortunately returned and he was rushed to Sick Kids Hospital in Toronto where an MRI revealed another stroke from blood clots. This is when the #NoahStrong movement emerged.
We received tremendous support from our family, friends, local community and even from hockey stars such as Auston Matthews, Jonathan Toews and John Tavares (to name but a few.) Noah's story was also featured by Ron MacLean on Hockey Night in Canada during the Stanley Cup playoffs. For a young hockey player and his family, this support was incredibly powerful and emotional.
CTV News Northern Ontario
Noah fought very hard to come back to us as he faced mounting challenges. He was unable to speak or move his arms and legs. He slowly regained movement in his left arm and leg and began communicating through an alphabet board. Noah was transferred to Holland Bloorview Hospital where he continued his rehabilitation. We soon realized that our brave boy was finding his strength, his humour and his positive outlook despite this enormous battle. All the love, prayers, and support seemed to be helping as he showed significant improvements every day. As part of his schoolwork at Bloorview, Noah developed a series of affirmations that became our daily reminder of his strength, love and determination in overcoming the many challenges that he faced.
Noah's words included: I am kind. I am strong. I am helpful. I can do hard things. I can reach my goals.  I am a leader. I am resilient. I am brave. I am loved.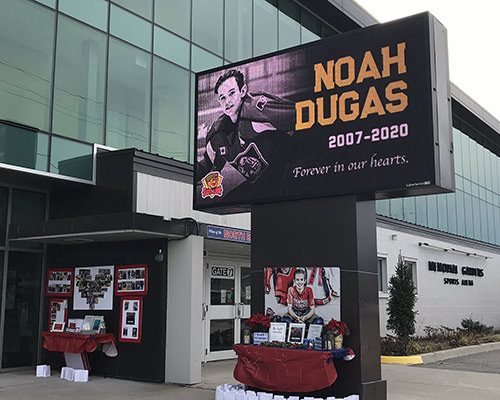 Noah's passing and legacy
On November 13th, 2020 an unexpected brain bleed took Noah Dugas' life. A family and a community were left to mourn this beautiful young soul. Noah's journey here on earth was completed and he was welcomed back home into the loving arms of God.
His final gift was enriching 7 lives through organ donation. Noah left such an incredible mark on the world by showing such strength, compassion, and resiliency. He united a community that rallied and supported him and his family. For this, the Dugas family is eternally grateful. Noah's affirmations continue to guide us and have inspired the creation of the NoahStrong organization. This organization honours Noah's legacy by supporting youth, families, and communities through the promotion, facilitation, and celebration of acts of kindness, selflessness, and resiliency.
NoahStrong forever!
Memorial Videos & Community Tribute